This page is about the character. For the TV series, see Jonny Quest (TV series).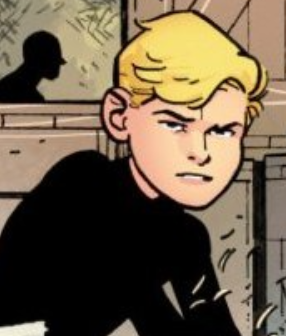 Jonathan "Jonny" Quest is the teenage son of Dr. Benton Quest and the late, Dr. Rachel Quest.
Physical appearance
Edit
Insert details here.
Personality
Edit
Insert details here.
He was taught Judo,[1] scuba diving, and the handling of firearms.
Version one
Edit
Jonny lost his mother at a young age and was then placed under the constant guard of Race Bannon, for his own security and as a precautionary measure not to compromise the scientific value of his father, Dr. Quest.[1]
Original adventures
Edit
When five ships went missing in the Sargasso Sea, within a month's time, Jonny came along on the investigation with Race, Dr. Quest and Bandit. Always the eager explorer, he convinced Race to take him out and have a closer look at one of the wrecked ships. As they were busy exploring the wreckage they were unknowingly being watched by the Lizard Men. As the creatures moved in to attack the small group Jonny's Judo skills were an asset, but ultimately all three of them were captured and learned of a diabolical plot about to unfold in the Sargasso Sea. After being brought below the deck of a wrecked ship it was Jonny's quick thinking that got them out of their makeshift prison, with the help of Bandit.
References
Edit