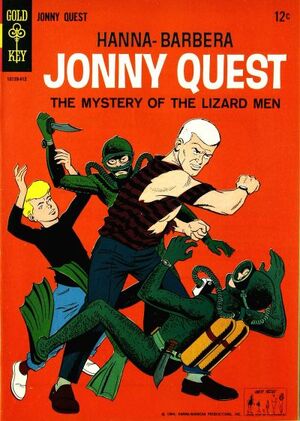 Jonny Quest issue 1 is a single issue published by Western Publishing, under their Gold Key Comics imprint, in September 1964. It is an adaptation/promotion of the first episode of the TV series.
Notes/trivia
Edit
This comic appeared in animated form in the direct-to-video film, Scooby-Doo! Mask of the Blue Falcon, where it seemingly depicts Jonny Quest and his world as fictional, although the indirect sequel, Scooby-Doo! and KISS: Rock and Roll Mystery, has a product from Quest Research Laboratories. Conversely, Scooby-Doo! Team-Up #10 outright contradicts Mask of the Blue Falcon, by having the Quest team meet Scooby-Doo and his crew.
Ad blocker interference detected!
Wikia is a free-to-use site that makes money from advertising. We have a modified experience for viewers using ad blockers

Wikia is not accessible if you've made further modifications. Remove the custom ad blocker rule(s) and the page will load as expected.