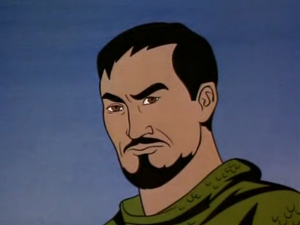 The chief led the Lizard Men, who were really a group of foreigners conducting secret laser experiments in the Sargasso Sea. They wore green lizard-like disguises to scare off intruders.
Physical appearance
Edit
Insert details here.
Personality
Edit
Insert details here.
Jonny Quest (TV series)
Edit
Season one
Edit
Insert details here.
Appearances
Edit
Ad blocker interference detected!
Wikia is a free-to-use site that makes money from advertising. We have a modified experience for viewers using ad blockers

Wikia is not accessible if you've made further modifications. Remove the custom ad blocker rule(s) and the page will load as expected.